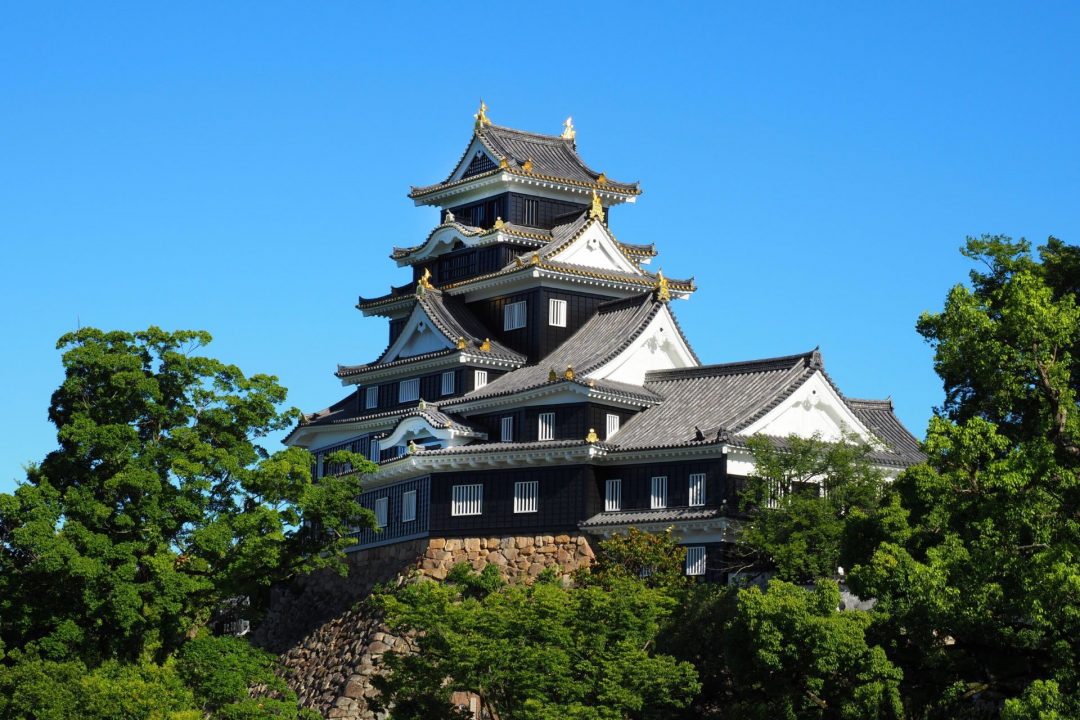 Photo credit: Okayama Prefectural Tourism Federation
Okayama Castle
The famous castle with a refined black exterior
Closest station

Higashiyama on the Okayama Electric Tramway
Access

From Okayama Station on the Sanyo Shinkansen, take the tram bound for Higashiyama on the Okayama Electric Tramway. It is 10 minutes' walk from the Shiroshita stop
Location

2-3 Marunouchi, Kita-ku, Okayama-shi, Okayama
Opening hours

9:00 – 17:30 (Last admission: 17:00)
*Hours may be extended for special events.
Closed

December 29 to 31
*Other closures may occur due to inclement weather or building inspections.
Price

Single tickets: Adult – 400 yen; Elementary and middle school students – 100 yen
Set tickets for Okayama Castle and Korakuen Garden: Adult – 640 yen
Great Stuff to See and Do!
Its uneven pentagonal shape makes it rare among castles in Japan
Okayama Castle stands out as the most distinctive landmark of Okayama Prefecture. It is also known as "Crow Castle" (Ujo) owing to the black panels that cover the outer wall of the castle tower, which is situated on a small hill. The black panels stand in stark relief to the castle's white gables, projecting a stately presence. Due to their contrasting color schemes, Okayama Castle is often compared to the World Heritage Site Himeji Castle, which has its own nickname of "White Heron Castle" (Shirasagijo).
The castle tower was constructed around 1597 by Hideie Ukita (1572-1655), a feudal lord who ruled the area. The castle town that grew up around it, extending to the north and the south, evolved into present-day Okayama City. The castle tower was designated a national treasure in 1931 but was destroyed by fire during an air raid on Okayama during World War II. The current castle tower was later rebuilt in 1966.
In addition to the black exterior, other major features of the castle are its unequal pentagonal stone walls and the first floor of the castle tower. The best way to get a feel for its unique shape is to look up at the stone walls and castle tower from below. Located behind the inner citadel is the "moon-viewing turret" (tsukimi yagura), an officially designated Important Cultural Property that was built in the 1620s and managed to survive the destruction of World War II. It is a must-see for any visitor to the castle.
Explore the newly restored Okayama Castle with all five senses!
Following the completion of a major renovation project launched in 2021, the castle will embark on a new journey from November 3, 2023, as a "castle that brings people together and communicates history." The project features a redesign of exhibitions that makes tours inside the castle tower a comprehensive sensory experience. Through interactive displays using the latest audio-visual technology, visitors can experience what life was like for military commanders and feudal lords in the past and be transported back in time while viewing dramatic recreations of battles.