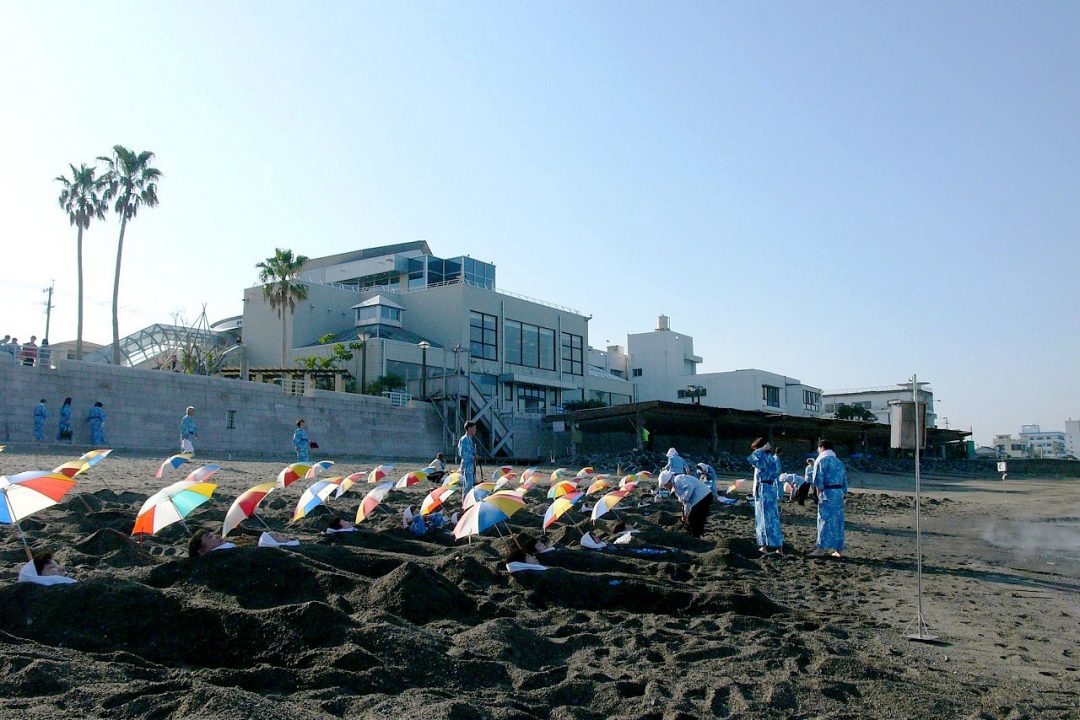 Sunamushi Onsen (Sand Bath) Saraku
Sunamushi Onsen (Sand Bath) Saraku
A natural sand bath that is the pride of Ibusuki
Closest station

JR Ibusuki Station
Access

About 3 minutes by car from JR Ibusuki Station or a 20-minute walk
Five minutes by bus (0-minute walk from the Sunamushi Kaikan-mae bus stop)
Location

5-25-18 Yunohama, Ibusuki City, Kagoshima Prefecture
Opening hours

8:30-12:00, 13:00-21:00
*Reception closes at 20:30 (open from 12:00-13:00 on Saturdays, Sundays, and holidays)
Closed

Open year-round
*Closed on the second Tuesday of July and December, and during stormy weather
Price

(Sand bath ticket/Hot spring-only bath ticket)
Adults (junior high school students and above): 1,080 yen / 610 yen, Children (elementary school students and below): 590 yen / 300 yen
(Group admission (20 people or more))
Adults: 920 yen, Children: 510 yen
(Discount for disabled persons (only for people who show their disability certificate from the Japanese government)
Adults: 590 yen / 300 yen, Children: 350 yen / 150 yen
*Price includes the charge for use of a yukata.

(Other)
・Souvenir towel 120 yen (for sale)
・Bath towel 200 yen (rental)
Great Stuff to See and Do!
What is a sand bath?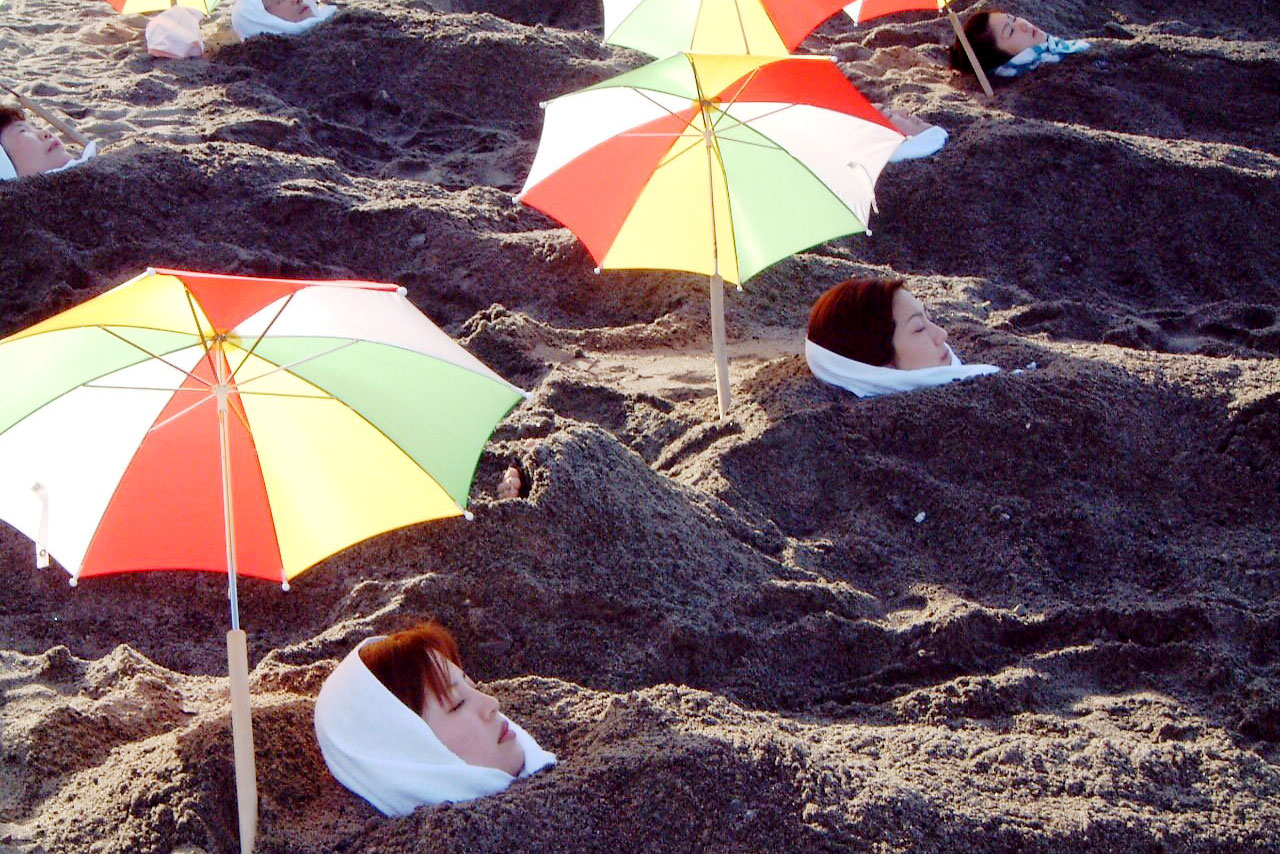 Sand baths have been beloved by hot spring visitors since 300 years ago. Wearing a special yukata, they warm their bodies to the core by covering themselves in sand that is heated by hot spring waters that flow below the beach.
This Sand Bath Hall is a bright, open facility built in harmony with the natural scenery, and offers a natural sand bath along the beach, a large indoor bath in the hall, and more. Its nickname is Saraku (with the kanji characters for sand and enjoyment), a wordplay on the word Saraku in the local Kagoshima dialect that means "wander." The name incorporates the hope that visitors will comfortably take an enjoyable, "sandy" break while wandering around.
All-weather sand baths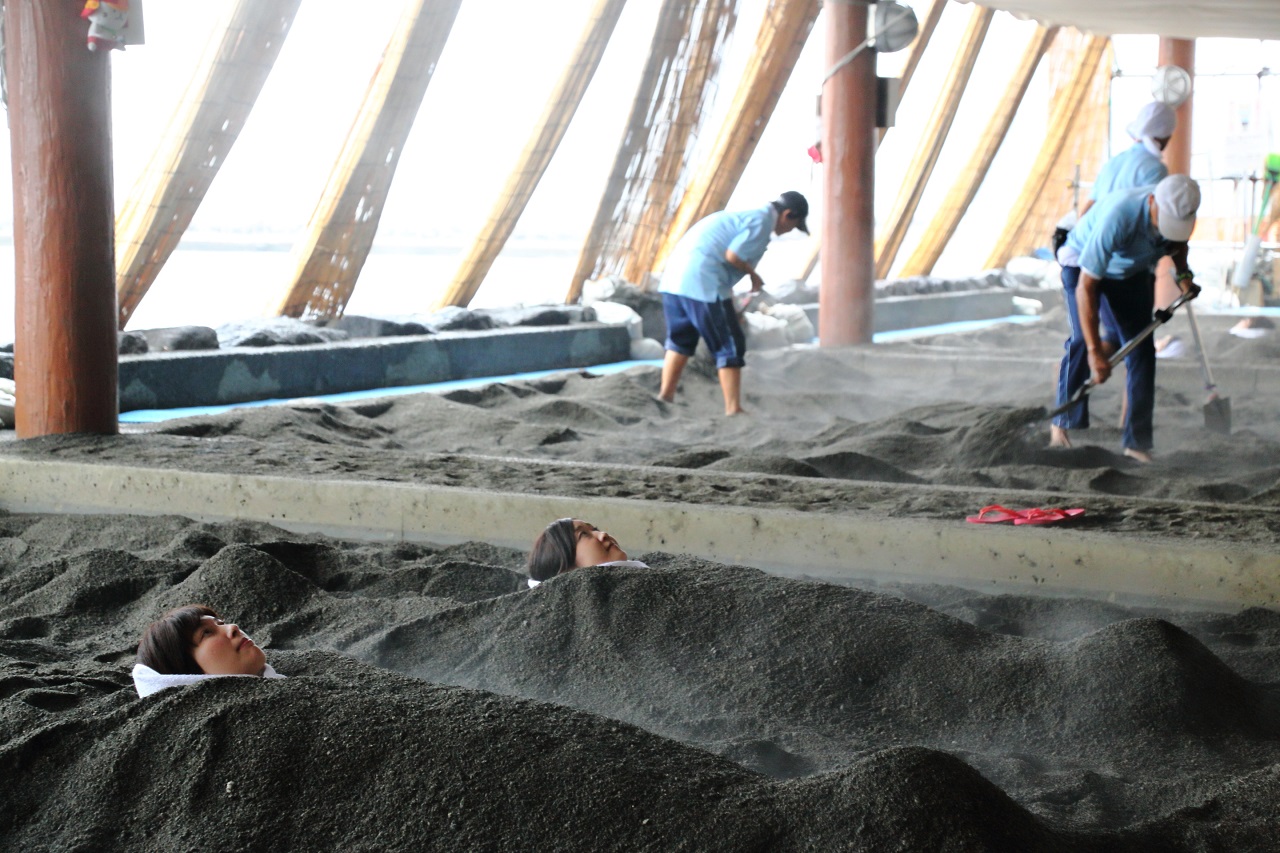 This natural sand bath, unique in the world, uses abundant hot spring waters that naturally flow along the beach. The beachside sand bath can only be used when the weather is good, but Saraku also features a roofed facility where you can enjoy sand baths at any time. According to scientific studies, sand baths are effective for various ailments such as nerve pain, rheumatism, lower back pain, and more. In addition, many young women have begun to use them recently to enhance their overall beauty, and they are also gaining popularity among foreign people as Japanese-style saunas.
*Temporary closure: Monday, December 9 to Friday, December 13, 2019