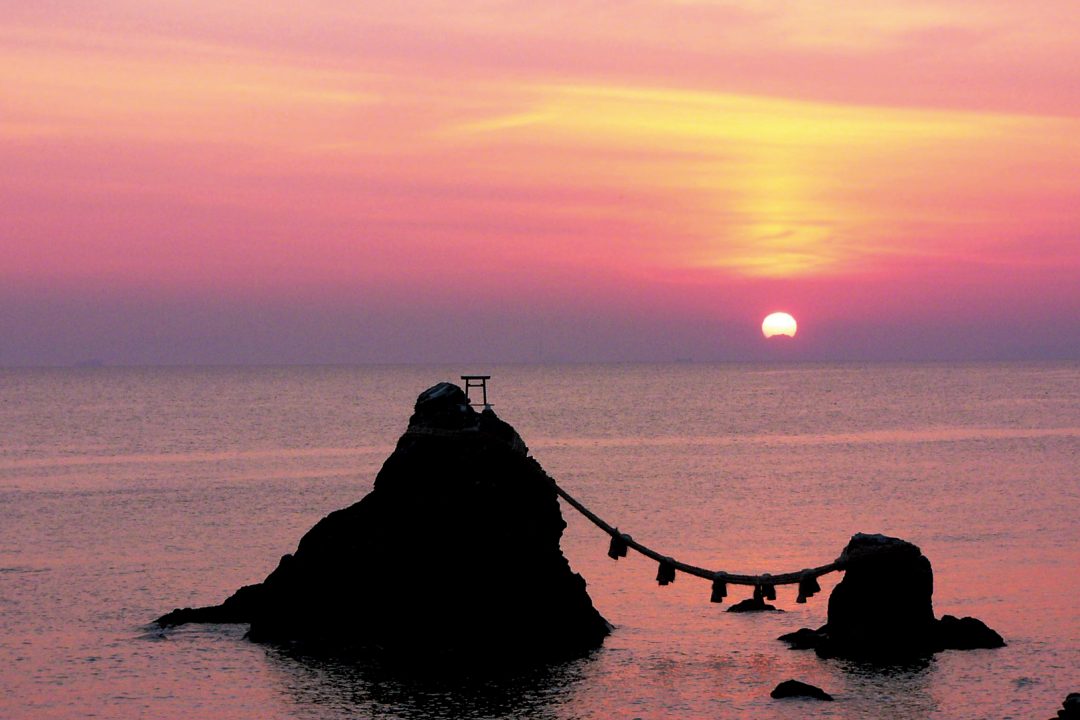 (c) ISESHIMA TOURISM&CONVENTION ORGANIZATION
Meoto Iwa
Deepening the bonds of couples as the sun rises
Closest station

JR Futaminoura Station
Access

Tokyo⇒Tokaido Shinkansen "Nozomi" (1 h 30 mins)⇒Nagoya⇒Rapid Mie (1 h 50 mins)⇒Iseshi Station⇒Sangu Line (8 mins)⇒Futaminoura Station
Location

Futami-choe, Ise, Mie Prefecture
Great Stuff to See and Do!
A sacred place for purification ceremonies and couples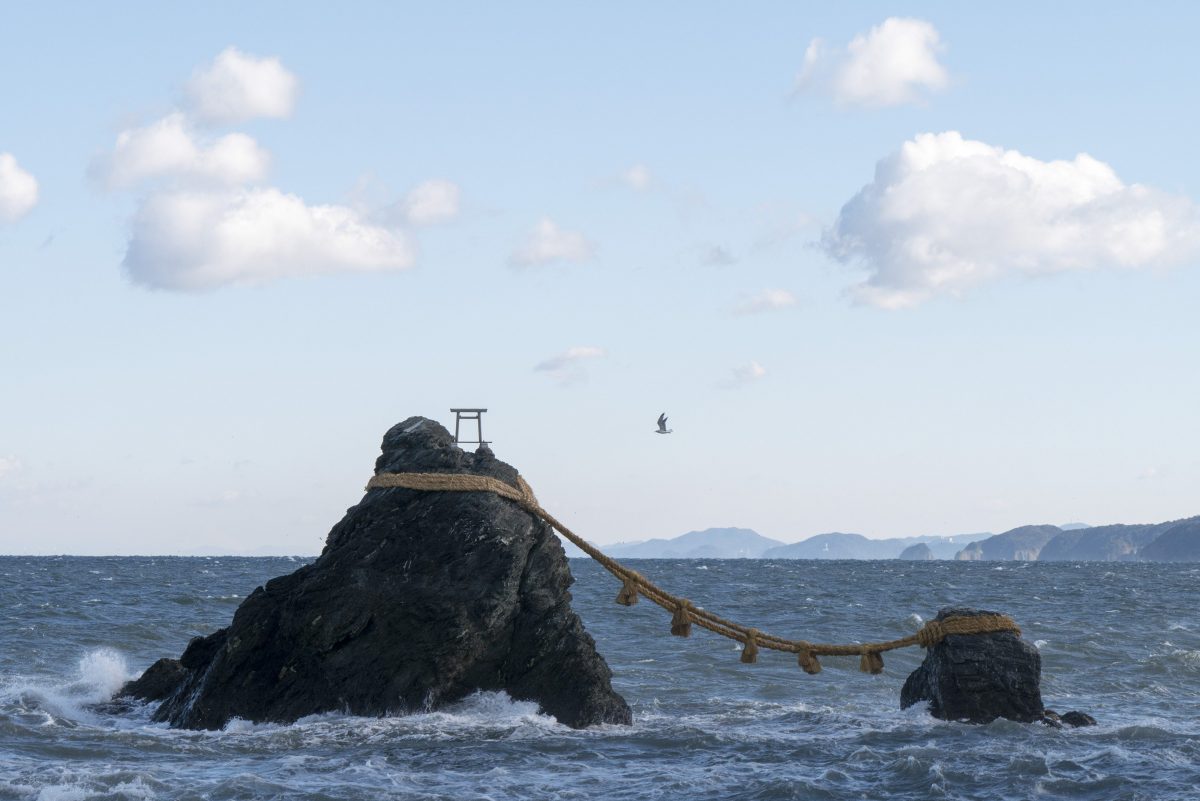 Futamigaura is in a pure waterfront location where pilgrims to Ise-Jingu Shrine have first stopped since ancient times to conduct a purification ceremony and cleanse themselves. The practice is known as hama-sangu, and you will want to visit this spot before going to Ise-Jingu Shrine. The Meoto Iwa are known as the symbol of Futamigaura.
The Meoto Iwa can be seen ahead by passing through the torii gates of Futami Okitama-jinja Shrine, and has been known as a location for viewing the sunrise since ancient times. The rocks also have the role of forming a torii gate to the okitama shinseki spirit rocks that originated from the god Sarutahiko no Okami who is enshrined in the inlet, as well as worshiping the sunrise from afar. The "male" rock stands at 9 meters tall while the "female" rock is 4 meters. A single rope known as the oshimenawa binds the two rocks with a total length of 35 meters, extending 16 meters around the male rock, 10 meters around the female rock, and 9 meters in between.
The mysterious beauty of the sun rising from Ise's blue waters has moved people for generations. It is famous now for symbolizing true love and the bonds of marriage, and is popular amongst couples.
photo: (c) ISESHIMA TOURISM&CONVENTION ORGANIZATION
The beach with seasonal views of the mysterious sunrise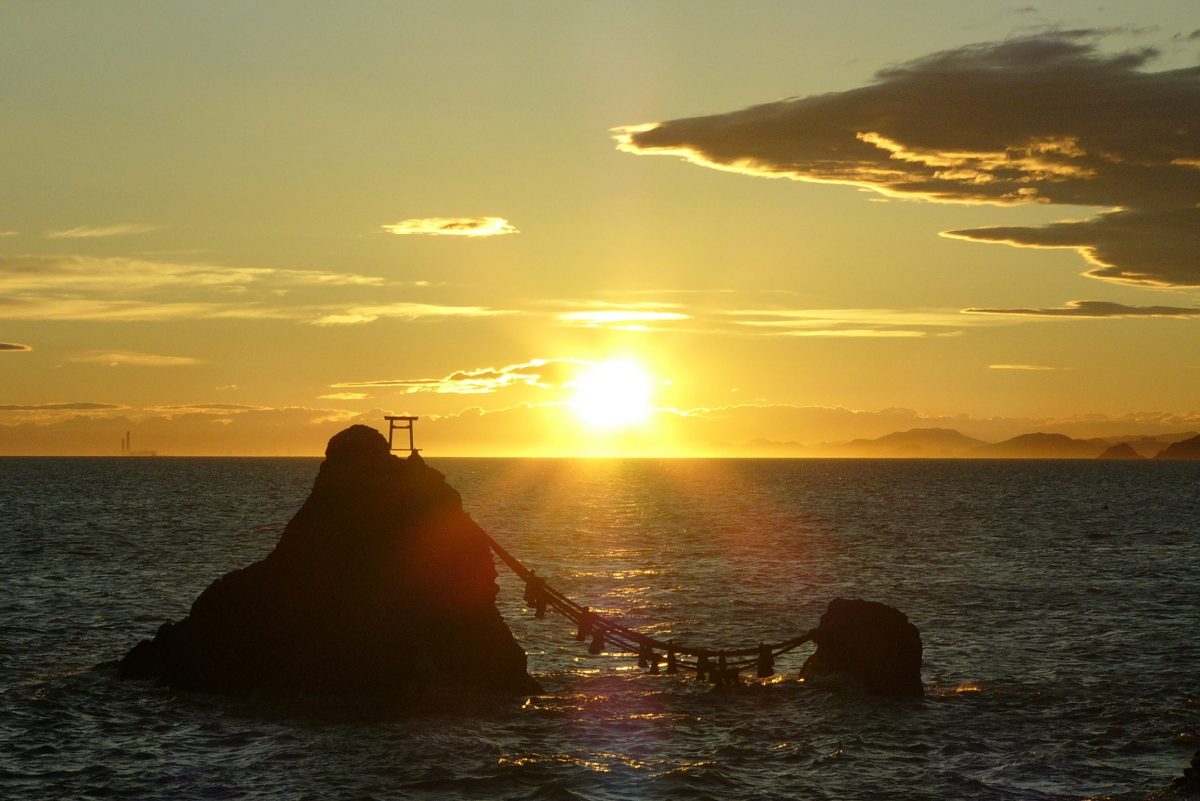 The Oshimenawa-hari Shinji ritual, in which the oshimenawa is replaced, is conducted every year on May 5, September 5, and on the weekends during December, and bustles with many people. You can view the sun rise between the two rocks of Meoto Iwa between May and July. The full moon rises between the two rocks between fall and winter.
photo: (c) ISESHIMA TOURISM&CONVENTION ORGANIZATION