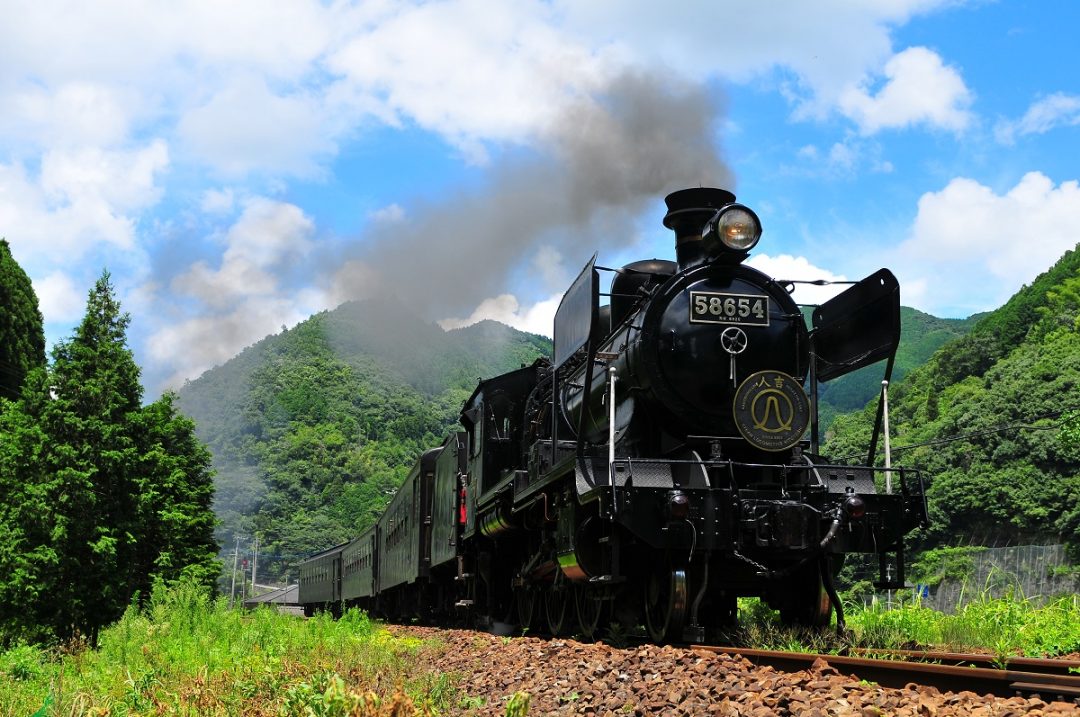 [Kyushu and Setouchi area] Enjoy a journey with hot springs and sightseeing trains
[Kyushu and Setouchi area] Enjoy a journey with hot springs and sightseeing trains
Journey to Shikoku along the Setouchi Inland Sea from Kyushu, where there are many sightseeing trains that are a special experience just to ride. Spend the night relaxing at a hot spring hotel!
Tickets for this trip
Travel theme

Experience Japan's historic culture while enjoying various trains, including the Shinkansen, limited express trains, and sightseeing trains.
Day 1
Time travel to Japan in the Showa era (1926-1989)
9:45
Take the SL Hitoyoshi steam locomotive from Kumamoto Station to Hitoyoshi SL Hitoyoshi, 2 h 25 mins
→
SL Hitoyoshi, 2 h 25 mins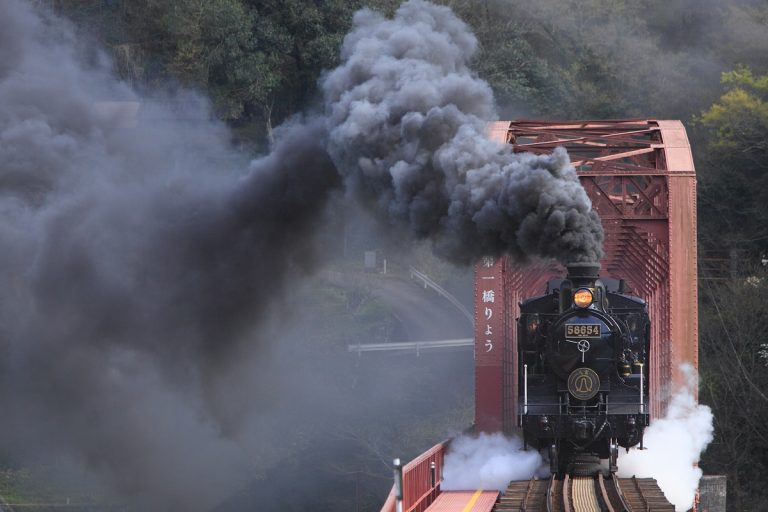 SL Hitoyoshi
The SL Hitoyoshi travels from Kumamoto Station to Hitoyoshi Station along the Kagoshima Main Line and the Hisatsu Line. Along the way, it will travel beside the Kuma River and cross it several times, offering passengers beautiful riverside landscapes to enjoy. The panoramic scenery can also be admired from either of the observation lounges.
12:10
Enjoy sightseeing in Hitoyoshi
→
Hitoyoshi Station area
Hitoyoshi has many popular restaurants for eel and gyoza dumplings. You should also enjoy a tour of the shochu liquor maker Sengetsu Shuzo with over 100 years of history.
16:00
Spend the night in Hitoyoshi Onsen
→
About a 5 minutes' walk from Hitoyoshi Station
Hitoyoshi Onsen
Hitoyoshi Onsen consists of hot springs distributed from Itsuka-machi to Onsen-machi in Hitoyoshi City. Over 50 hot spring sources produce gushing waters along the Kuma-gawa River. There are many hot spring ryokan inns dedicated to their baths including hinoki cypress baths, outdoor baths, and stone baths. In addition, many of the city residents use them as a space for relaxing.
Day 2
Enjoy two sightseeing trains
9:30
Buy a specialty Kurimeshi ekiben and board the Kawasemi Yamasemi toward Kumamoto
→
Limited Express Kawasemi Yamasemi, 1 h 30 mins
Kurimeshi
Hitoyoshi is famous among those in the know for its chestnuts. There are many chestnut trees throughout Japan, but there is a legend that their roots lie in Yamae Village in the Hitoyoshi area. "Kurimeshi," meaning rice with chestnuts, is an ekiben station bento box made with the renowned chestnuts of Hitoyoshi. First concocted in 1946, it has become the face of Hitoyoshi Station.
11:04
Tour Kumamoto Castle, a famous castle of Japan
→
About 10 minutes by bus from Kumamoto Station
Experience the grand scale of Kumamoto Castle, including the unique castle tower, the characteristic stone walls called Mushagaeshi, and Honmaru Goten Palace Reception Hall which was restored to its appearance from 400 years ago. After a leisurely tour of Kumamoto Castle, return to Kumamoto Station and head to Kurume Station on the Kyushu Shinkansen.
15:07
Ride the Yufuin no Mori from Kurume Station toward Yufuin Onsen in the hot spring prefecture of Oita
→
Yufuin no Mori, 1 h 30 mins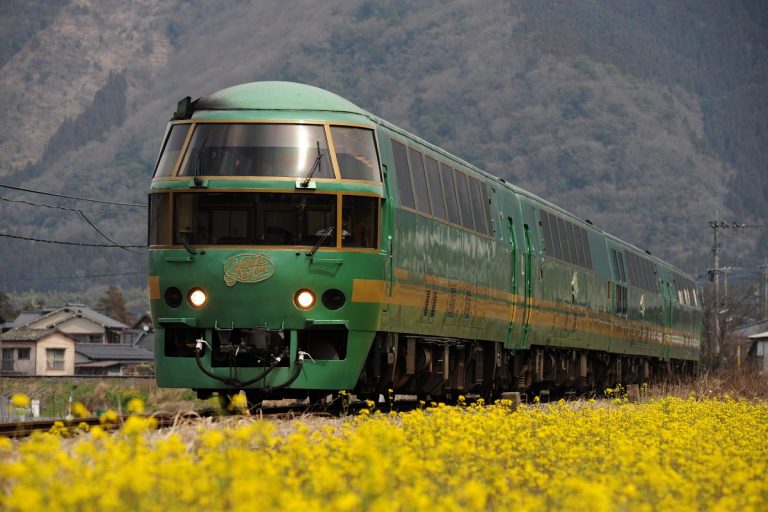 The Limited Express Yufuin no Mori started as a sightseeing train linking Hakata Station in Fukuoka Prefecture and Yufuin, a prominent hot springs resort area in Kumamoto Prefecture. In more than 30 years of operation, this beautiful train has remained tremendously popular. The train exterior features a stunning emerald green color and a golden emblem.
16:45
Take a relaxed stroll in the hot spring district and spend the night in Yufuin Onsen
→
About a 10 minutes' walk from Yufuin Station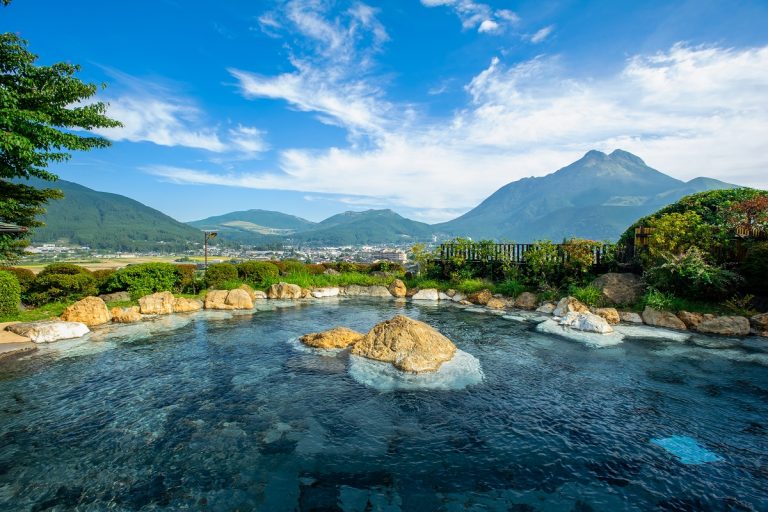 Yufuin Onsen
Yufuin Onsen is a hot spring town located in the Yufuin Basin in the central part of Oita Prefecture. Together with Yunohira Onsen, it has been designated a National Hot Spring Health Resort under the name Yufuin Onsen.
Day 3
Change from the limited express to the Shinkansen and go from Kyushu to Honshu
10:03
Depart from Yufuin Station on the Yufu train and have lunch in Beppu
→
Limited Express Yufu, 1 h
In Beppu, savor Oita's local cuisine such as a bounty of fresh seafood caught in the coastal waters of Beppu Bay and Bungo Beef.
13:45
Head for Kokura Station from Beppu Station, and change to the Shinkansen and head for Fukuyama Station
→
Limited Express Sonic, 1 h; then change to Sanyo Shinkansen "Sakura" at Kokura Station and ride for 1 h 15 mins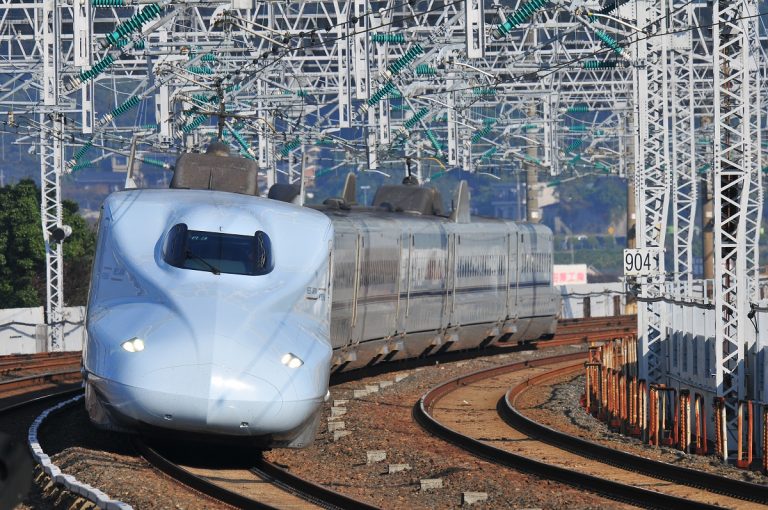 Sakura
The "Sakura" runs along the Sanyo-Kyushu Shinkansen line.
It connects Shin-Osaka Station and Kagoshima-Chuo Station and stops at more stations than the "Mizuho."
17:00
Head for Tomonoura, said to have the best picturesque scenery in western Japan
→
About 30 minutes by bus from Fukuyama Station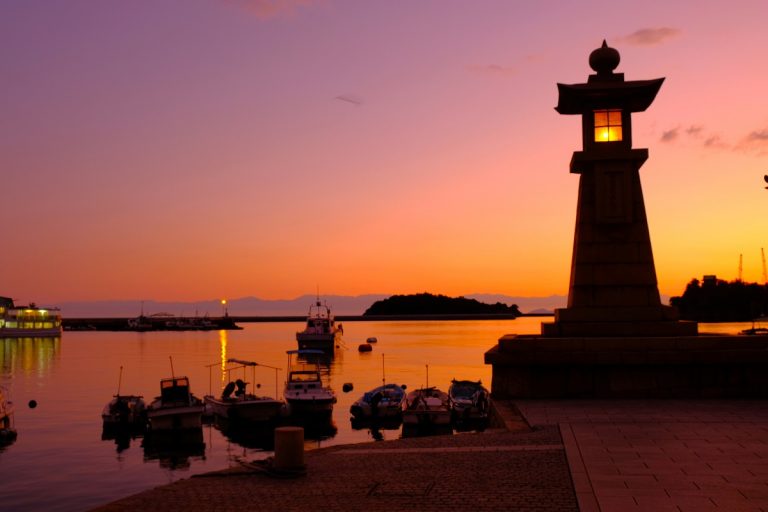 Tomonoura
Tomonoura faces the Setouchi Inland Sea, has Sensui-jima Island, Benten-jima Island, and Kogo-shima Island, and is designated as a Place of Scenic Beauty. Stay in a hot spring hotel where you can see the scenery from your window.
Day 4
Head to Dogo Onsen, said to be Japan's oldest hot spring
9:20
Cross the Great Seto Bridge and go to Matsuyama in Shikoku
→
Sanyo Shinkansen "Kodama," 30 mins; then change to the Limited Express Shiokaze at Okayama Station and ride for 2 h 40 mins
13:15
Tour Matsuyama Castle, which still has its appearance from the Edo period
→
About 10 minutes by tram from Matsuyama Station, then walk for about 5 minutes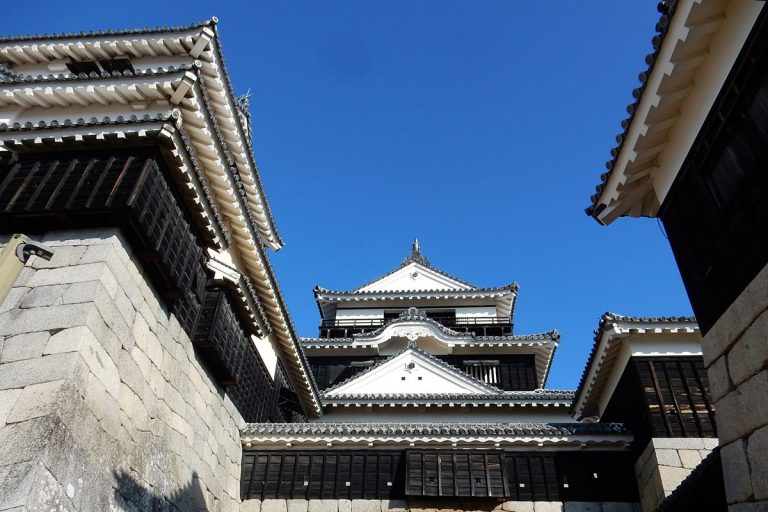 Matsuyama Castle
Matsuyama Castle soars over central Matsuyama City atop Mount Katsu at a height of 132 meters. It was built by the famous Yoshiaki Kato during the Battle of Shizugatake.
16:00
Tour the Dogo Onsen Honkan bathhouse and then spend the night nearby
→
About 10 minutes by tram from Matsuyama Castle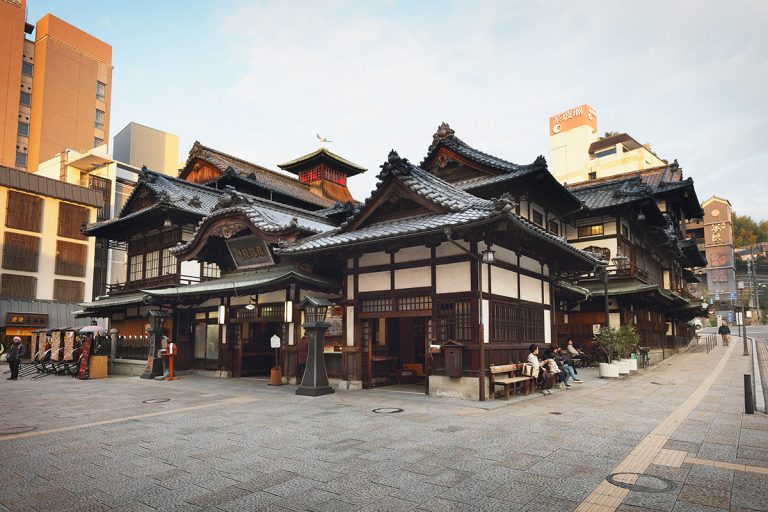 Dogo Onsen
Dogo Onsen is said to be Japan's oldest hot spring resort and its existence was written about in ancient times.
Its smooth waters, sourced from a simple thermal alkaline hot spring, are gentle on the skin and are perfect for traditional Japanese curative baths and for enhancing beauty.
Day 5
Trains with plenty of variety
8:25
Wake up a little early on this day and ride the Iyonada Monogatari toward Ozu
→
Iyonada Monogatari, 2 h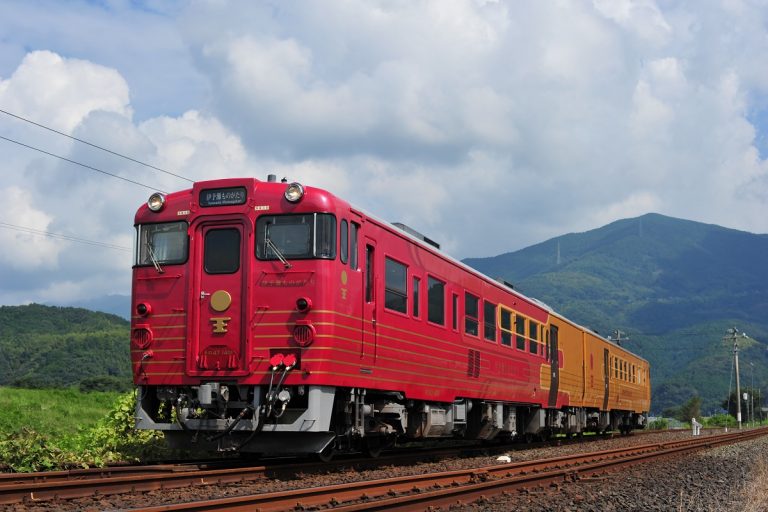 Iyonada Monogatari
The Iyonada Monogatari traverses the Iyo Sea route between Iyo City and Iyo-Ozu on the Yosan Line and around the Seto Inland Sea, offering stunning views of the pristine surrounding scenery. It connects Matsuyama Station with Iyo-Ozu Station and Yawatahama Station, and was designed with three concepts in mind: "retro-modern," "appeal of the sea," and "leisurely time.
10:36
Board the Anpanman train at Iyo-Ozu Station head toward Matsuyama Station There, board the Limited Express Ishizuchi toward Takamatsu Station
→
Uwakai Anpanman Train, 40 min; Limited Express Ishizuchi, 1 h 30 mins
12:54
You have to have Kagawa Prefecture's specialty of sanuki udon for lunch!
→
There are many specialty shops between Takamatsu Station and the Takamatsu City area. Each restaurant has different recipes, so try comparing them.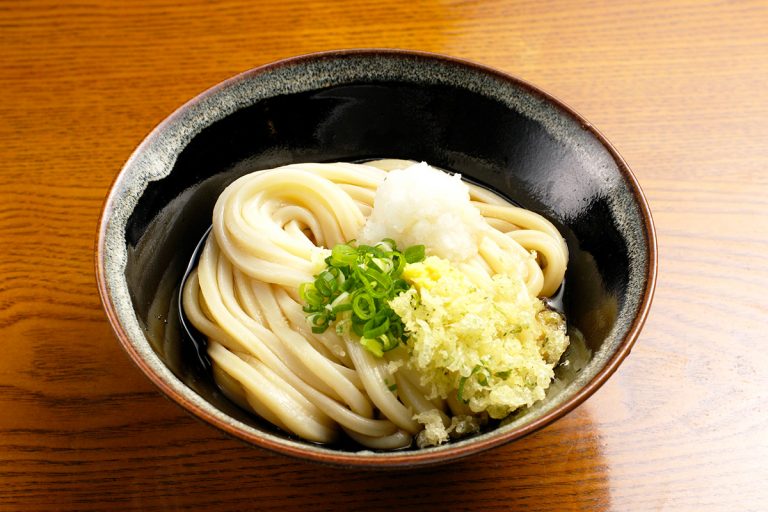 Sanuki Udon
Locals in Kagawa Prefecture absolutely adore udon, and their per-person consumption of the noodles is number one in Japan.
Sanuki udon offers a variety of styles and flavors. One of the joys of the noodles is being able to choose different temperatures of noodles and dashi broth.
14:00
Ritsurin Garden, which is highly appreciated overseas
→
About 20 minutes by bus from Takamatsu Station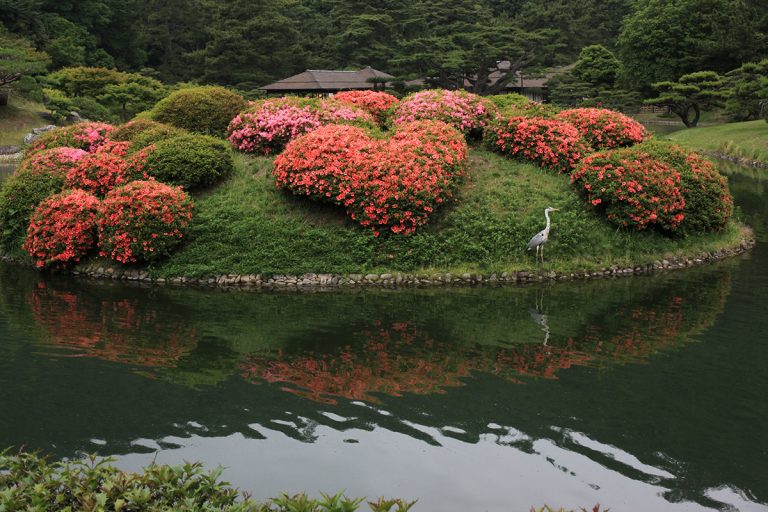 Ritsurin Garden
Ritsurin Garden is the largest Cultural Property Garden that has been designated by Japan as a Place of Scenic Beauty. When including Mount Shiun, the premises stretches over about 75 hectares. The garden was established as a villa by the Matsudaira family of the Takamatsu clan and was renovated by successive daimyo until it was completed nearly 300 years ago.
17:00
Spend the night in Konpira Onsen
→
55 minutes from Ritsurin Koen Station on the Takamatsu-Kotohira Electric Railroad (Kotoden) (not covered by the Japan Rail Pass)
You should also stay at a hot spring tonight. It is recommended to visit Kotohira-gu Shrine early the next morning!