[Hakodate, Sendai, Yamagata] Side trips along the Tohoku-Hokkaido Shinkansen lines
[Hakodate, Sendai, Yamagata] Side trips along the Tohoku-Hokkaido Shinkansen lines
Enjoy mainly Hakodate and Yamagata in the Tohoku area while maximizing use of the Shinkansen connecting Tokyo and Hakodate in Hokkaido. Features a sightseeing train, nature, gourmet cuisine, hot springs, temple visits, and many other diverse delights of Japan!
Tickets for this trip
Travel theme

Enjoy a ride on the "Shinkansen: Toreiyu Tsubasa" featuring a footbath and savor the charms of Hakodate in Hokkaido.
Day 1
Hakodate sightseeing and night view
8:39
Depart Sapporo Station toward Hakodate
→
Limited Express Hokuto, 3 h 45 mins
12:45
Lunch and shopping at Kanemori Red Brick Warehouse
→
About a 15 minutes' walk from Hakodate Station
Kanemori Red Brick Warehouse
This exemplary Hakodate tourism spot was constructed in 1909 in the bay area. It was entirely renovated in 1988 and now contains a shopping mall, beer hall, event spaces, and more.
18:00
See one of Japan's most outstanding night views from Mount Hakodate, and spend the night in Hakodate
→
30 minutes by bus from Hakodate Station, then take the ropeway to the summit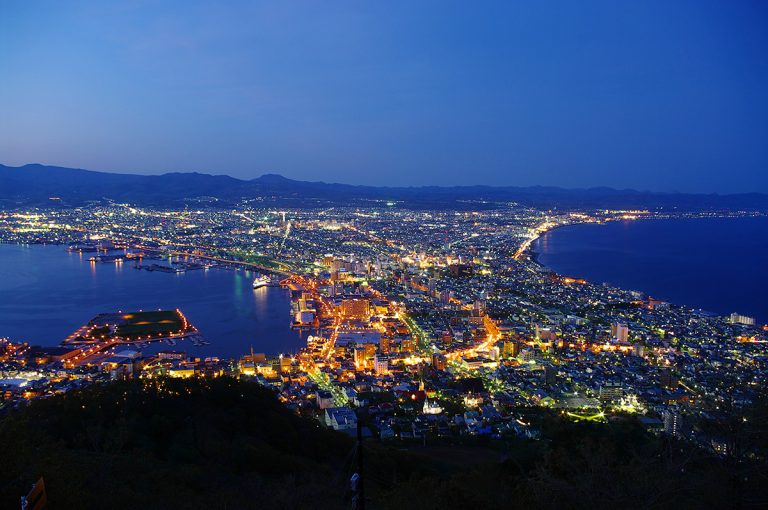 Mount Hakodate
The sweeping view of Hakodate City and the surrounding ocean and mountains atop Mount Hakodate was enabled through the construction of the mountaintop viewing platform in 1953 and the ropeway linking the mountain's base and summit in 1958.
Day 2
Enjoy the Hokuto
8:55
From Hakodate Station, go to Mori Station to request an Ikameshi ekiben
→
Limited Express: Hokuto, 45 mins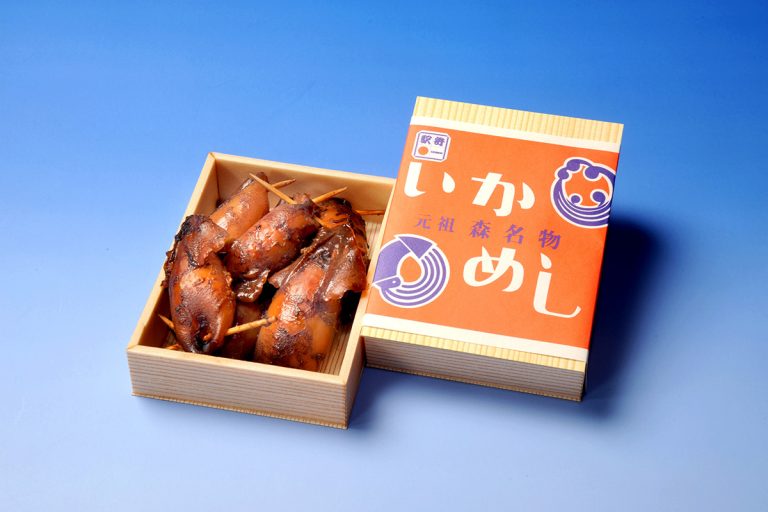 Ikameshi
This ekiben (a boxed lunch featuring local specialties sold at train stations) contains two small squid stuffed with a mixture of glutinous and non-glutinous fresh rice. The appealingly simple flavor comes from the taste of the squid cooked in a sweet and salty sauce that pervades the rice.
9:54
Ride the Hokuto again toward Onuma Quasi-National Park
→
Limited Express: Hokuto, 20 mins
Head in the opposite direction from where you rode before, and arrive at Onuma-Koen Station in just under 20 minutes. Onuma Quasi-National Park is near the station and you can freely enjoy the beautiful nature and activities there. Shin-Hakodate-Hokuto Station is one station from Onuma-Koen Station on the Hokuto.
13:39
Ride the Shinkansen from Shin-Hakodate-Hokuto Station to Sendai
→
"Hokkaido-Tohoku Shinkansen: Hayabusa," 2 h 50 mins
17:00
See the Sendai Castle Site by twilight, and spend the night in Sendai
→
About a 25 minute bus ride from Sendai Station.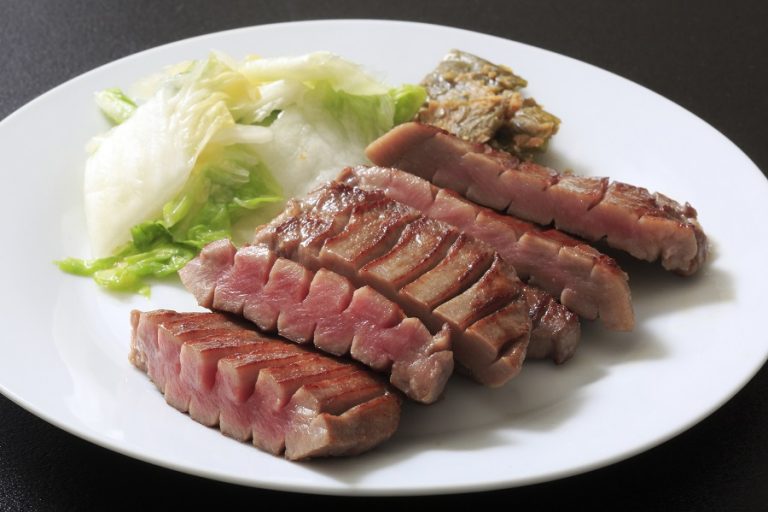 cow tongue cuisine
See a panoramic view of the city from the high ground where there is an illuminated statue of Masamune Date on horseback. For dinner, don't miss Sendai's famous specialty of cow tongue cuisine.
Day 3
Experience a footbath aboard the "Toreiyu Tsubasa"
9:00
Depart Sendai toward Fukushima Station, where the "Toreiyu Tsubasa" stops
→
"Tohoku Shinkansen: Yamabiko," 25 mins
10:02
Board the "Toreiyu Tsubasa"
→
Have a special experience for about two hours before reaching Oishida Station, the closest station to Ginzan Onsen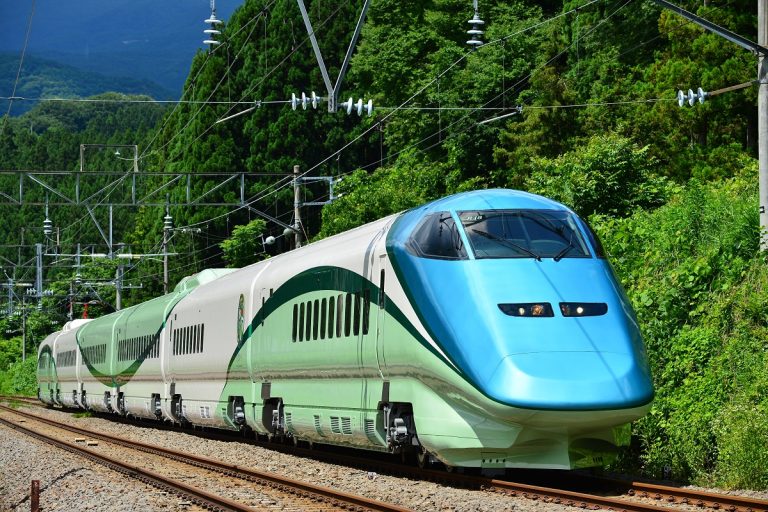 Toreiyu Tsubasa
The beautiful interior and facilities invite passengers to feel as if they have been transported to a hot spring retreat. This is the first Shinkansen to be installed with foot baths, allowing passengers to soak their feet while taking in the gorgeous views of the surrounding scenery.
12:35
Go from Oishida Station to Ginzan Onsen and spend a night enjoying the hot spring district.
→
Route bus, about 40 mins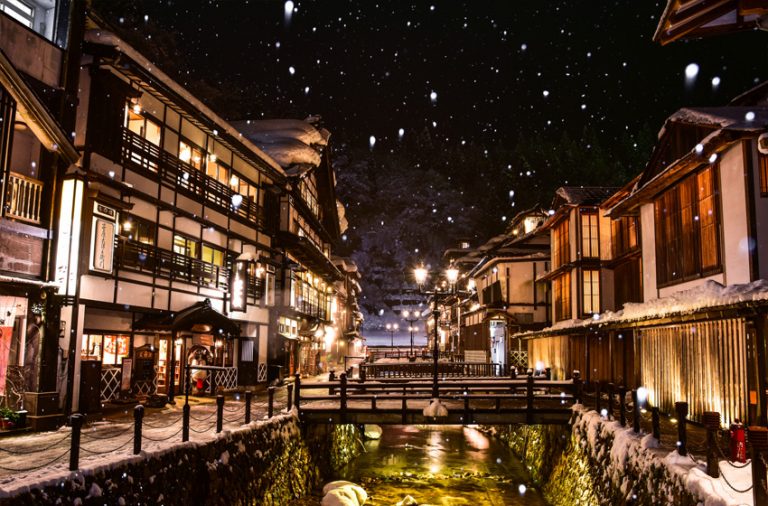 Ginzan Onsen
Ginzan Onsen derives its name from the former Nobesawa Silver Mine (ginzan means silver mine in Japanese) that flourished during the early Edo period. Around 1925, during the end of the Taisho period through the early Showa period, multi-story Western-style wooden buildings began to be built along the banks of the Ginzan-gawa River, creating a modern yet classic onsen town with a unique atmosphere.
Day 4
Yama-dera Temple, a must-visit location for Yamagata sightseeing
9:53
Depart Oishida Station for Yamadera Station
→
Ou Main Line, 45 mins; then change to the Senzan Line at Uzen-Chitose Station and ride for 15 mins
11:30
Slowly savor Yama-dera Temple
→
It takes about 10 minutes from Yamadera Station to the entrance to Yama-dera Temple. Head there after enjoying a meal in the temple town along the way.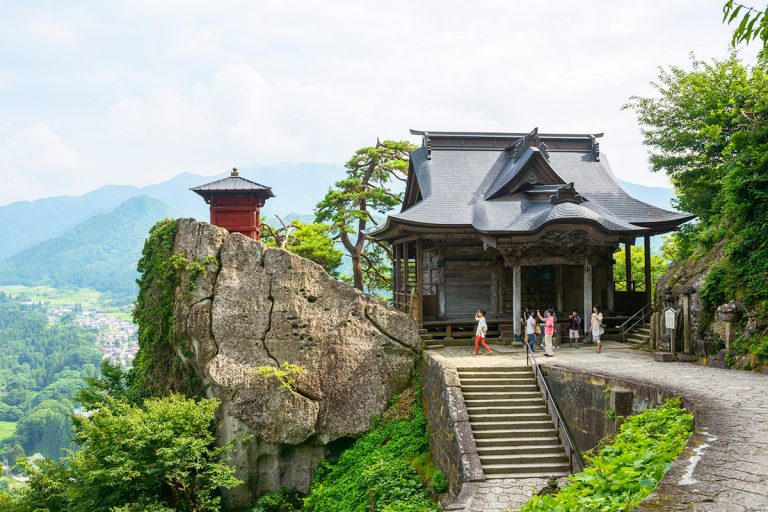 Yama-dera Temple
The official name of Yama-dera Temple (which means "mountain temple") is Hoju-san Risshaku-ji Temple. It was opened by Jikaku Daishii Ennin as a temple of the Buddhist Tendai sect via the imperial prayer of Emperor Seiwa in 860.
16:16
Head to Sendai Station and take the Shinkansen to Tokyo
→
Rapid Senzan Line, 1 h; then change to the "Tohoku Shinkansen: Hayabusa" at Sendai Station and ride for 1.5 h
19:02
Arrive Tokyo Station
→
This journey takes you from start to finish along the lines of the Hokkaido and Tohoku Shinkansen. Spend the next day sightseeing in Tokyo!