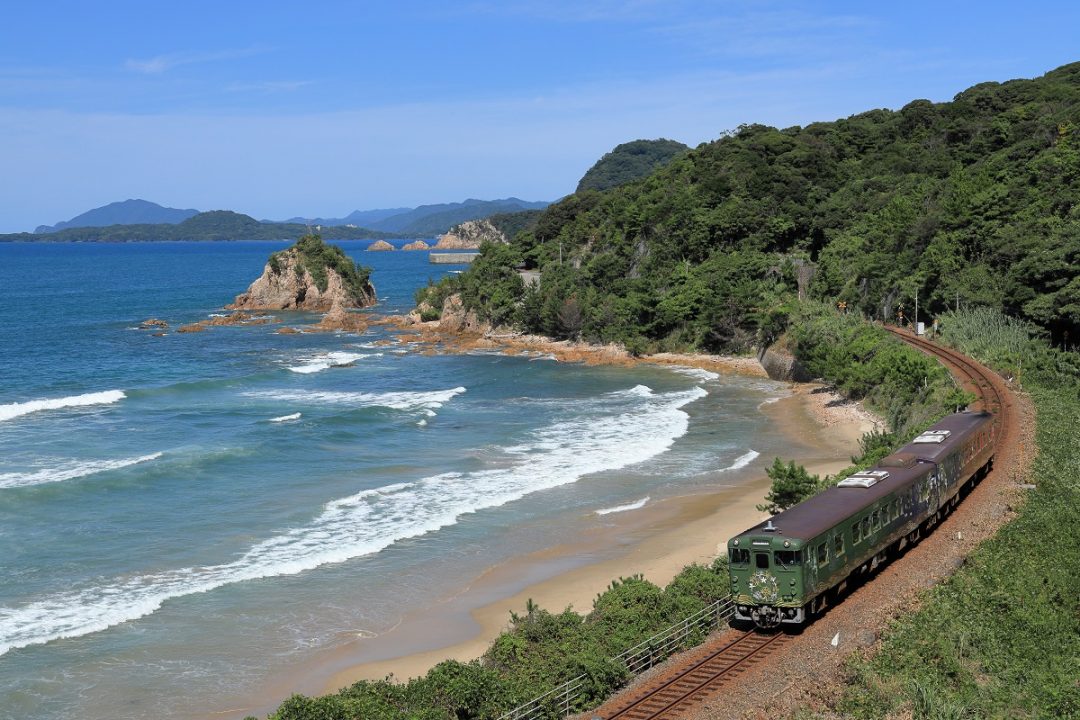 photo by Hirokazu Nagane
Marumaru no Hanashi
A train that goes to Hagi (Ha), Nagato (Na), and Shimonoseki (Shi)!
Main route

Shin-Shimonoseki Station – Higashi-Hagi Station
Route map
Popular spots & gourmet
The Story Behind The Train
Enjoy a great variety of specialties from along the railway line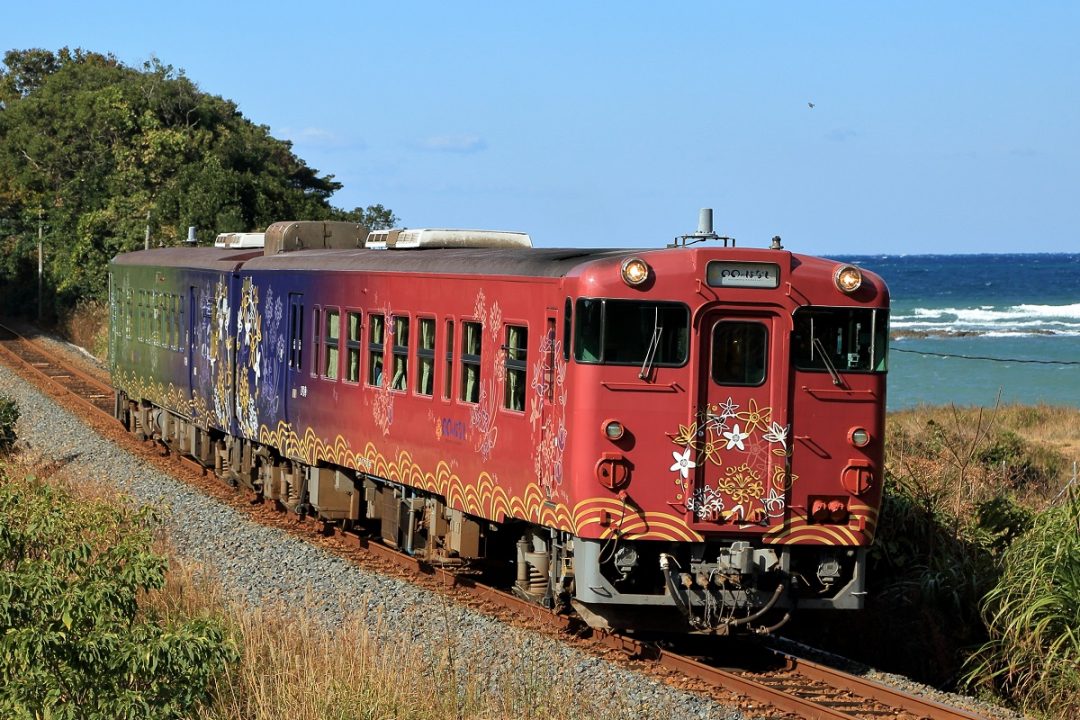 Marumaru no Hanashi is a sightseeing train connecting Shin-Shimonoseki Station and Higashi-Hagi Station in Yamaguchi Prefecture that began operations in August 2017. The "Hanashi" in the train name, which means "stories" or "conversations," comes from Hagi (Ha), Nagato (Na), and Shimonoseki (Shi), while the "Marumaru" loosely means "something something" and refers to the many different regional sightseeing areas, foods, and other attractions along the train line.
Special design combining Japanese and Western aesthetics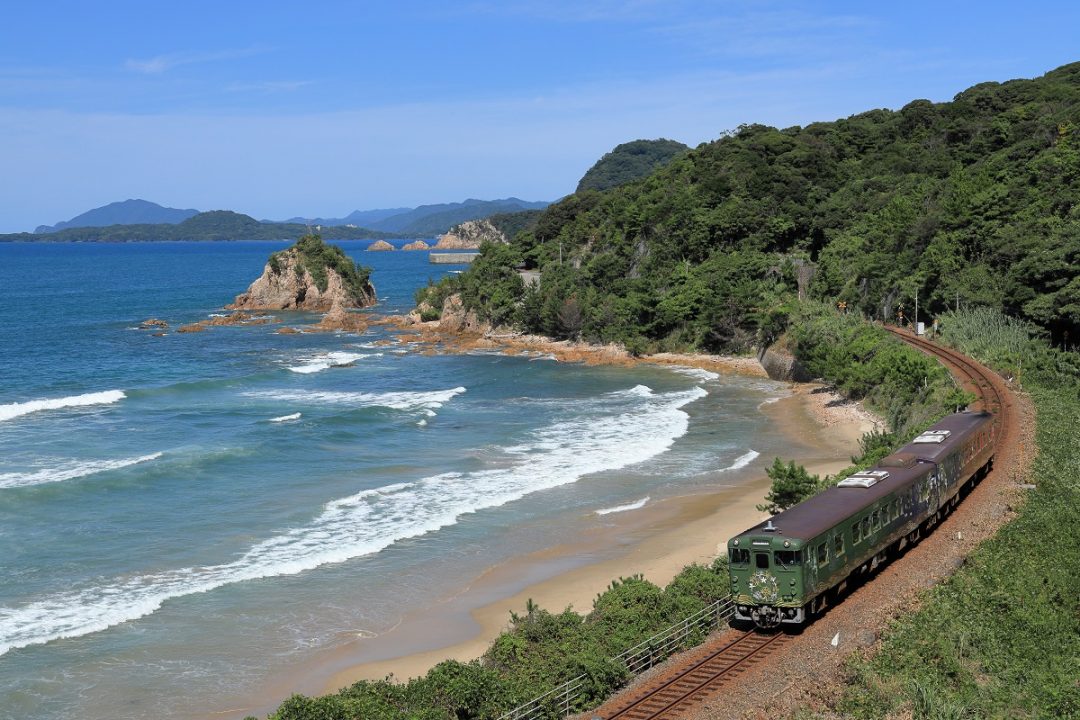 Located on the western edge of Honshu, the main island of Japan, Yamaguchi (home to Hagi, Nagato, and Shimonoseki) has a history of providing opportunities for bringing together Japan and Western countries. This is why there are two different interior design concepts for the two train cars: "the West as admired by Japan (Western style)" and "Japan as admired by the West (Japanese style)." The train exterior features the "ocean connecting Japan and the West" extending over the two train cars, as well as depictions of the summer mikan flower and the spider lily, flowers that have watched over the history of this area.
To truly get the most out of the scenery of the Sea of Japan, with an advance reservation you can enjoy bento lunchboxes and Hagi sweets sets carefully prepared by local chefs while sitting in the seats facing the large windows overlooking the sea.
Opportunities to learn about the local area and its history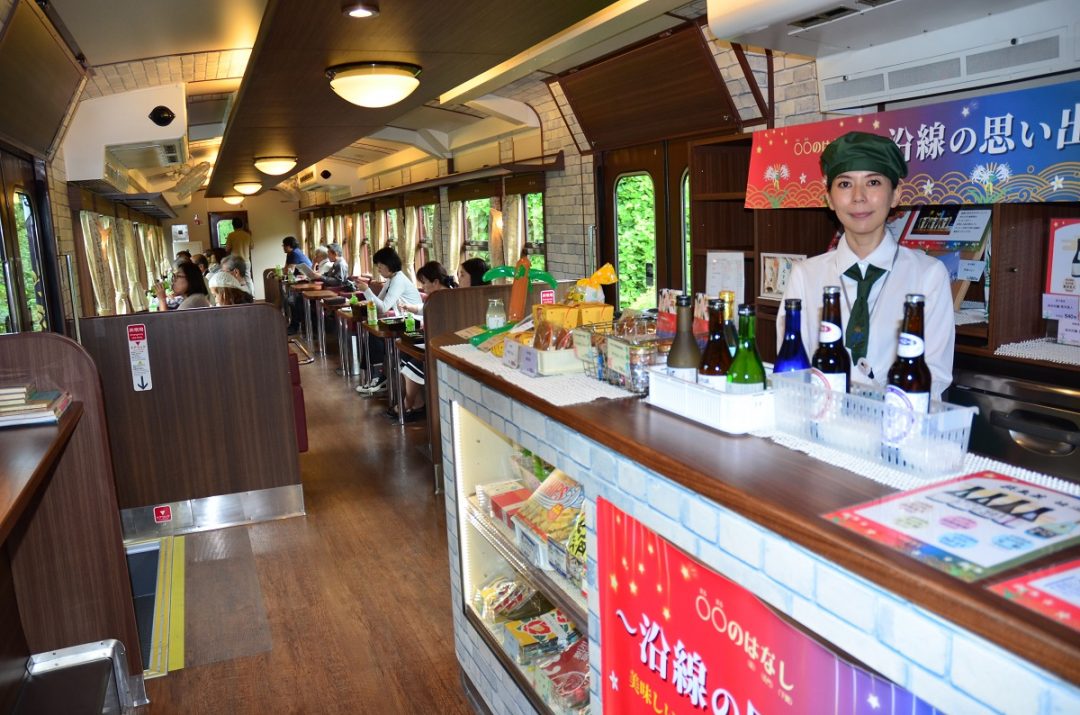 Yamaguchi Prefecture is the setting for many "Hanashi" about the history and culture of the political activists who led Japan through the great upheaval at the end of the Edo period. Enjoy various "Hanashi" while looking, listening, and savoring the history and culture of the surrounding area, as well as delicious seafood and locally-brewed beverages.