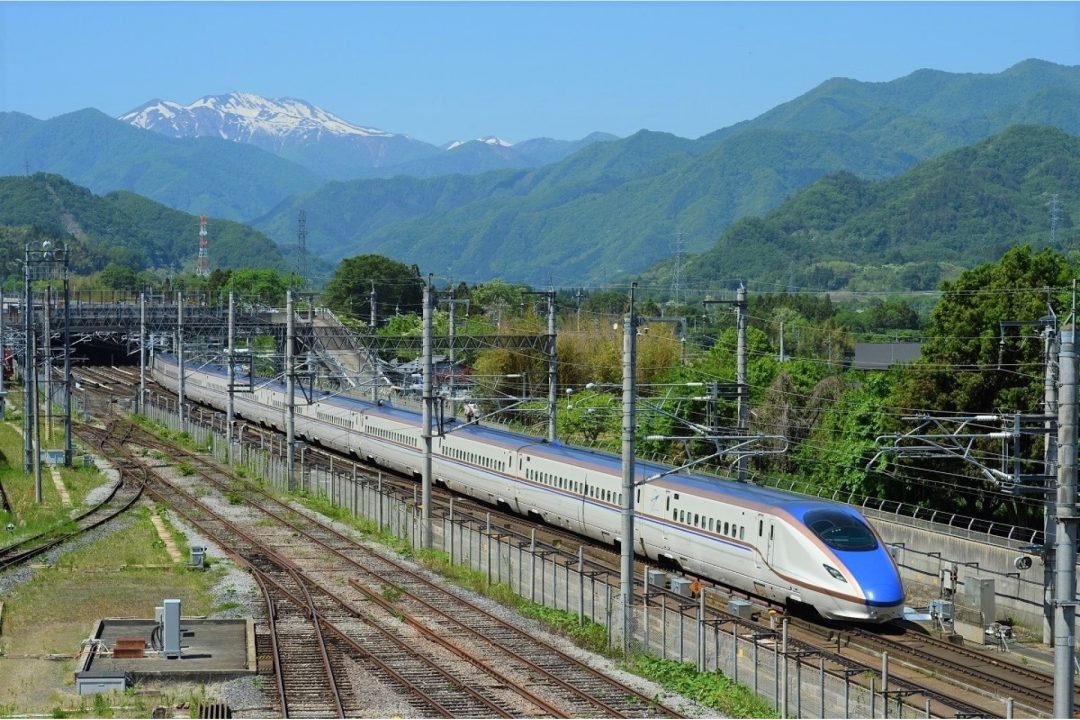 Jōetsu Shinkansen (E7-Series)
Travel from Tokyo to the culinary capital of Niigata in elegance and comfort on a high-speed train
Main route

Tokyo Station – Echigo-Yuzawa Station – Niigata Station
Route map
Popular spots & gourmet
The Story Behind The Train
Experience Japanese hospitality at 275 km/h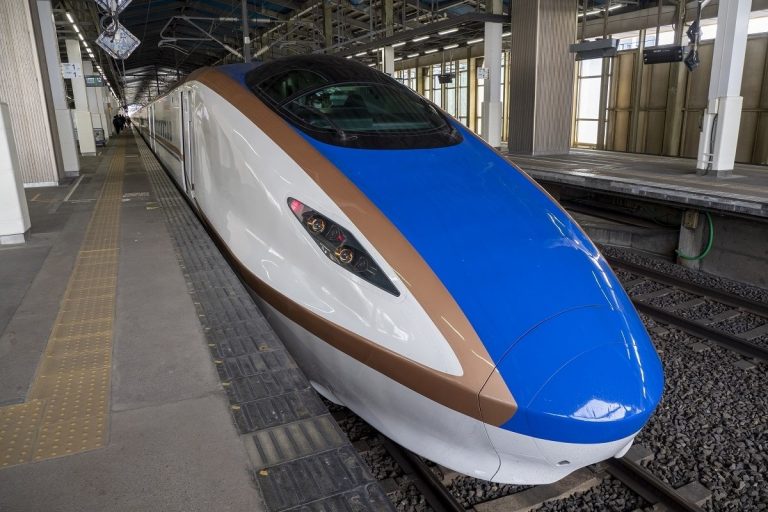 Niigata Prefecture is one of Japan's leading rice-producing regions, but it is also a culinary capital, rich in natural delicacies from the bounty of the mountains and the treasures of the sea. Visitors can easily reach Niigata on the Jōetsu Shinkansen, which boasts a maximum speed of 275 km/h and travels from Tokyo Station to Niigata Station in a mere 90 minutes.
This high-speed rail links the Pacific Ocean and the Sea of Japan, and provides easy access to tourist spots and hot springs in Gunma and Niigata prefectures along the way. In winter, tourists flock to ski resorts in Niigata, especially those near Echigo-Yuzawa, which are known for their excellent snow quality.
The design concept behind the Jōetsu Shinkansen's train cars is the "Future of Wa (Harmony)." The main color theme of the train's interior is white with features of copper, representing traditional Japanese craftworks like copperware, and blue, symbolizing the beauty of the sky one can view outside the train in vivid yet subdued tones.
There are three classes of seats: Ordinary Car, Green Car, and GranClass. All seats have plenty of space and ample legroom so you can relax comfortably. Each seat comes equipped with its own power outlet, and JR-East Free Wi-Fi is available throughout the train, making it easy to stay connected during your ride.
The train also features a number of amenities meant to enhance passengers' comfort and convenience, including restrooms with warm-water bidet seats, diaper-changing table, and a multi-purpose room.
Experience the superlative quality of GranClass, a premium space with just 18 seats
A single GranClass car is available on each train, offering passengers the option to enjoy first-class travel on the Shinkansen. Inside the car are 18 shell back type seats. These high-quality genuine leather seats are equipped with electric recliners, so their backrests, seats, and footrests can be adjusted to a comfortable position. The seats wrap around passengers like shells, creating a luxuriously private experience.
Although there are no dedicated staff to provide food and beverages, blankets and complimentary slippers are available to help you enjoy a relaxed and comfortable ride in this premium, refined space.
*For more information about the Jōetsu Shinkansen, please check the official website (https://www.jreast.co.jp/e/routemaps/joetsushinkansen.html).
■In-train guidance (English)=◎
■Free Wi-Fi=◎
■Electrical outlets=◎
■Restroom=◎
■Washroom=◎
■Designated wheelchair spaces=◎
■On-board sales=◎