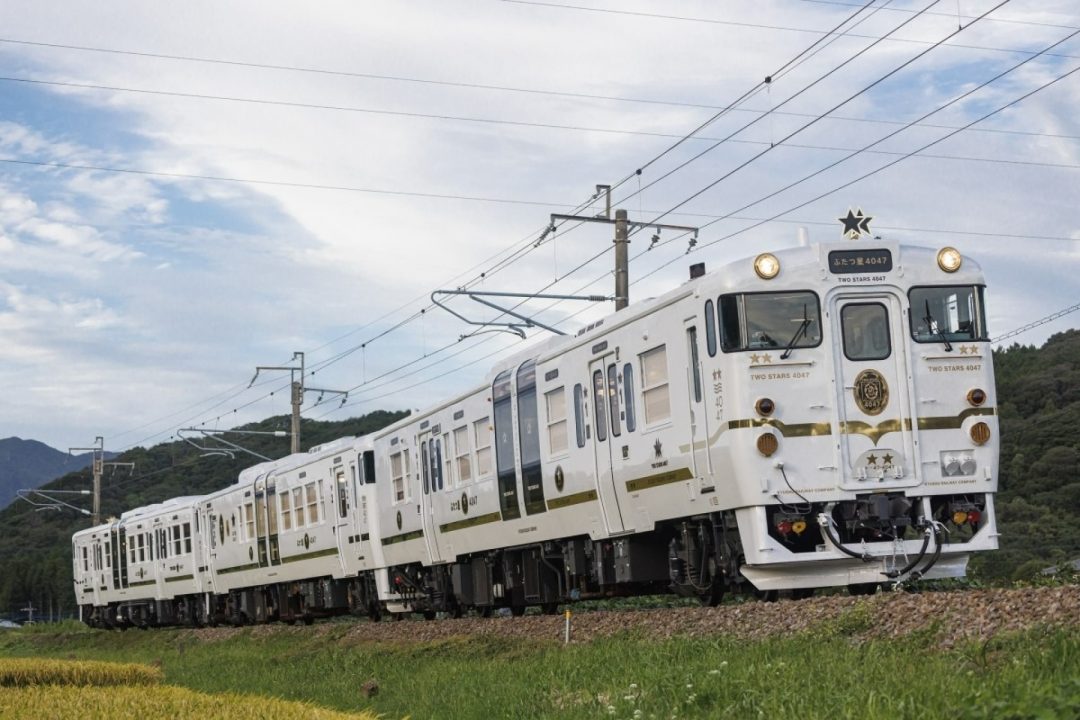 Two Stars 4047
Seaside Train Tours for the "Two Stars" of West Kyushu – Saga and Nagasaki
Main route

Ariake Sea route (morning route): Takeo-onsen Station – Nagasaki Station (via Nagasaki Main Line)

Omura Bay route (afternoon route): Nagasaki Station – Takeo-onsen Station (via Omura Line)
Route map
Popular spots & gourmet
The Story Behind The Train
The first highlight of the trip – beautiful ocean scenery enjoyed from the train window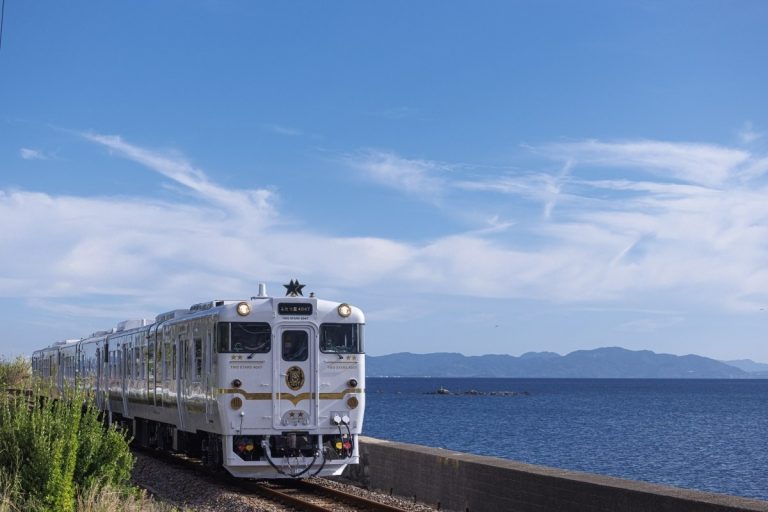 The Two Stars 4047 is a sightseeing train that tours the coast of West Kyushu between Saga Prefecture and Nagasaki Prefecture. It allows passengers to comfortably enjoy the scenery from the train's windows, including beautiful coastal views of the Ariake Sea and Omura Bay, and to taste delicious foods from areas along the train's route.
The train runs on two routes each day, offering striking views of the Ariake Sea in the morning, with its vast contrast of sea and sky, and the peaceful Omura Bay at dusk in the afternoon.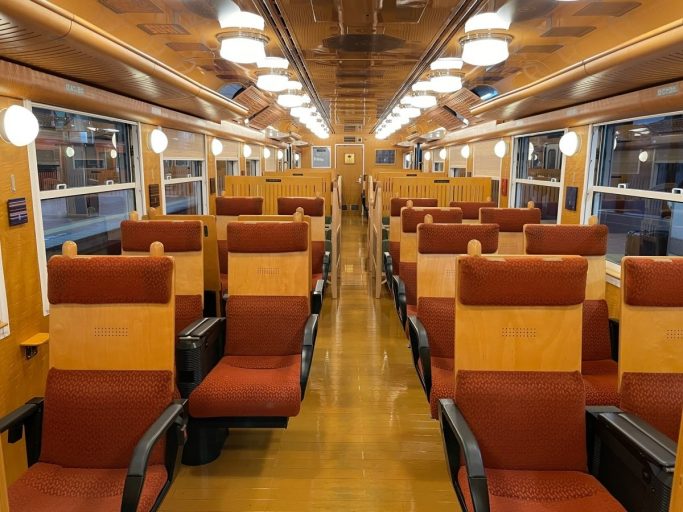 The train's cars exude a luxurious presence, with their pearl-white bodies and golden lines. Stepping inside the car, you will find a space filled with the cozy warmth of wooden furniture.
The train has a total of three cars, with Car-1 and Car-3 devoted exclusively to reserved seating. In addition to regular reclining seats, there are sofa seats for two and booth seats for three or four that face each other, allowing passengers to choose seating accommodations according to their needs. Seats facing the sea are popular, so it's a good idea to book early.
The second highlight of the trip – exclusive in-train bentos and sweets
Impressive views aren't the only thing to appreciate on this train. In Car-2, there is a common space called Lounge 40, where passengers can savor delicious foods from the region while admiring the spectacular scenery outside.
Another feature is the colorful woodblock prints with motifs of flowers and grasses that adorn the interior of the car, making this luxurious space feel more like a museum than a train.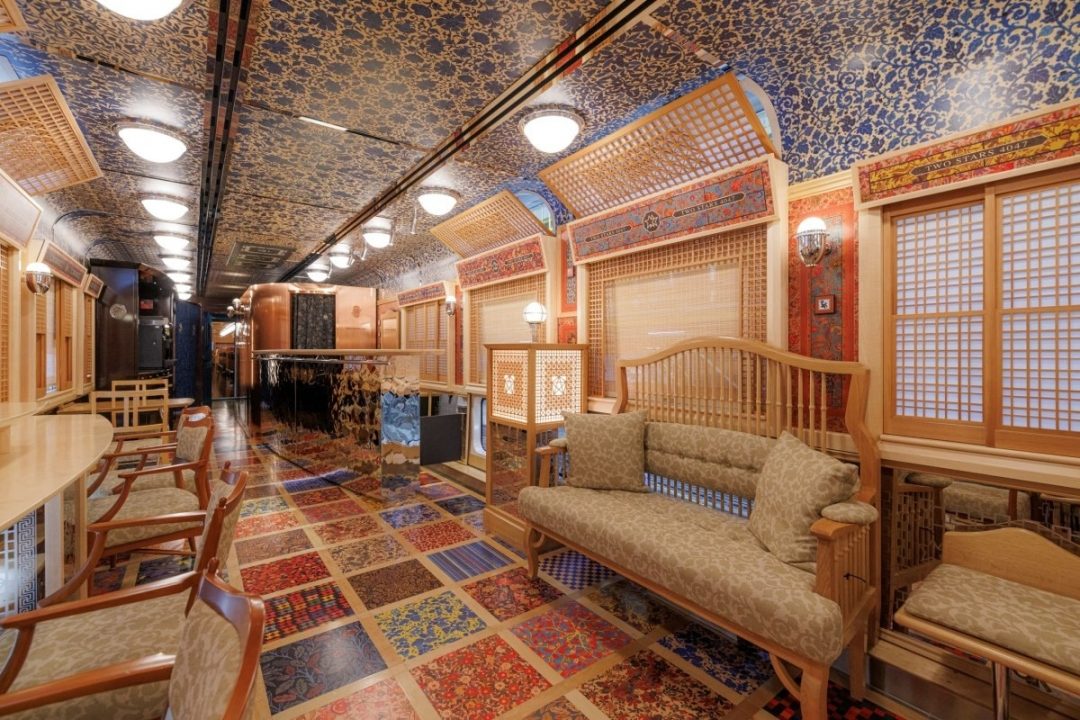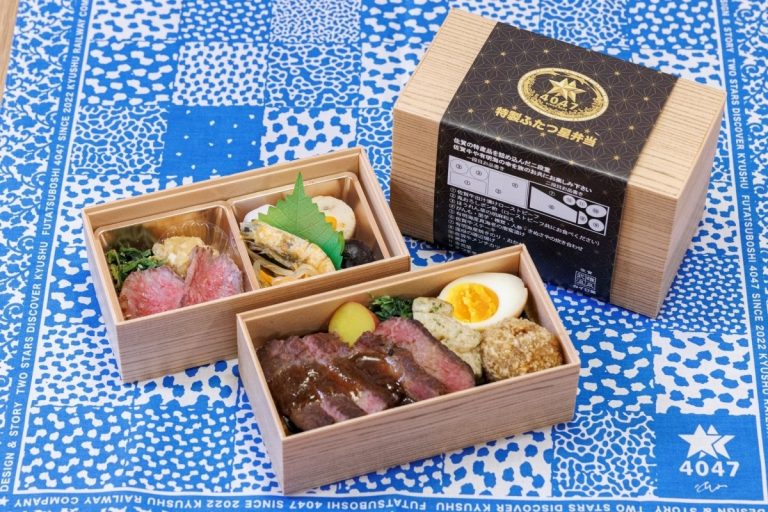 A must-try for passengers is the popular bento lunches and sweets, available by advance reservation only. Two types of bento featuring Saga beef, known for being sweet and juicy, are served on the morning train, while hot and fluffy Nagasaki soufflé baked on board is available on the afternoon train. Sake lovers can also enjoy tasting a variety of locally brewed sake.
While on board you can also sign up to join a Saga nori seaweed tasting event (morning) or to decorate Hasami-yaki pottery (afternoon), available for an additional fee on a first-come, first-served basis. These activities take only around 20 minutes and give you a chance to experience Japanese culture during the ride.
■In-train guidance (English)=◎
■Free Wi-Fi=×
■Electrical outlets=×
■Restroom (simple washroom)=◎
■Designated wheelchair spaces=◎
■On-board sales=◎