photo by Yuta Murakami
Shikoku Mannaka Sennen Monogatari
Shikoku Mannaka Sennen Monogatari
Enjoy an outing on a sightseeing train and take in Shikoku's nature and culture!
Main route

Tadotsu Station・Zentsuji Station・Kotohira Station – Oboke Station
Route map
Popular spots & gourmet
The Story Behind The Train
Train cars that embody the four seasons and culture of Shikoku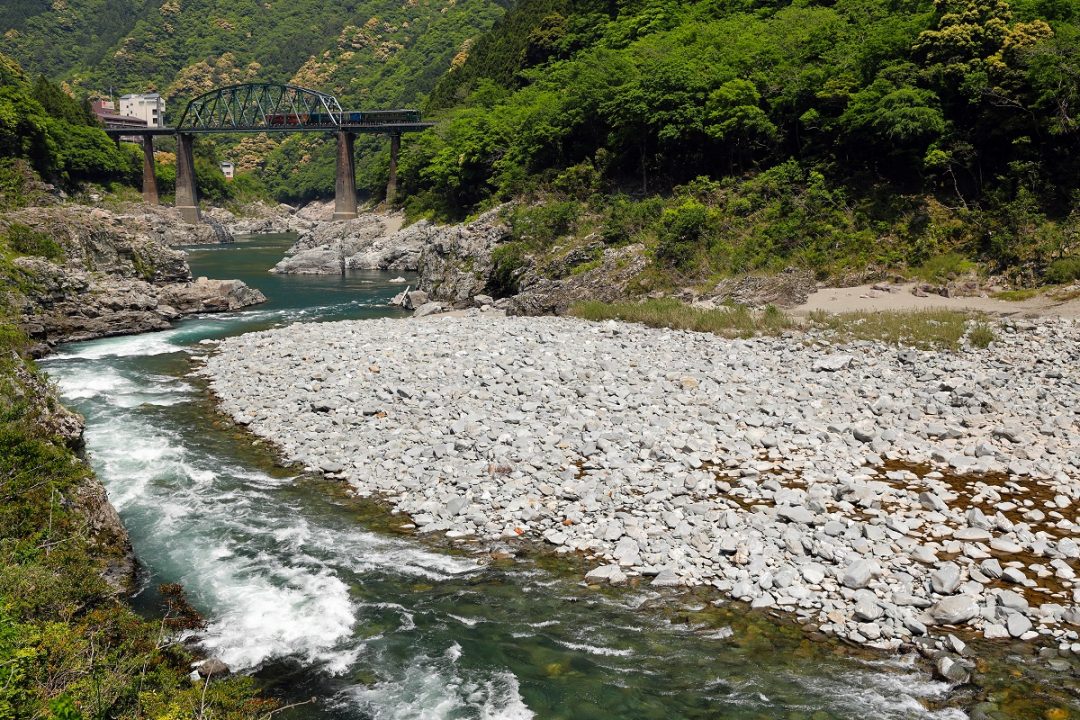 The train was named Sennen Monogatari, meaning "Thousand-year Story," to evoke culture from long ago including Zentsuji Temple, the birthplace of the Buddhist monk Kobo Daishi (also known as Kukai) who was the father of the Shikoku Pilgrimage, Kotohira-gu Shrine which has been worshipped since ancient times as the god of the sea, and the Iya Valley, a secluded place where the secrets and legends of the defeated Heike Clan remain today.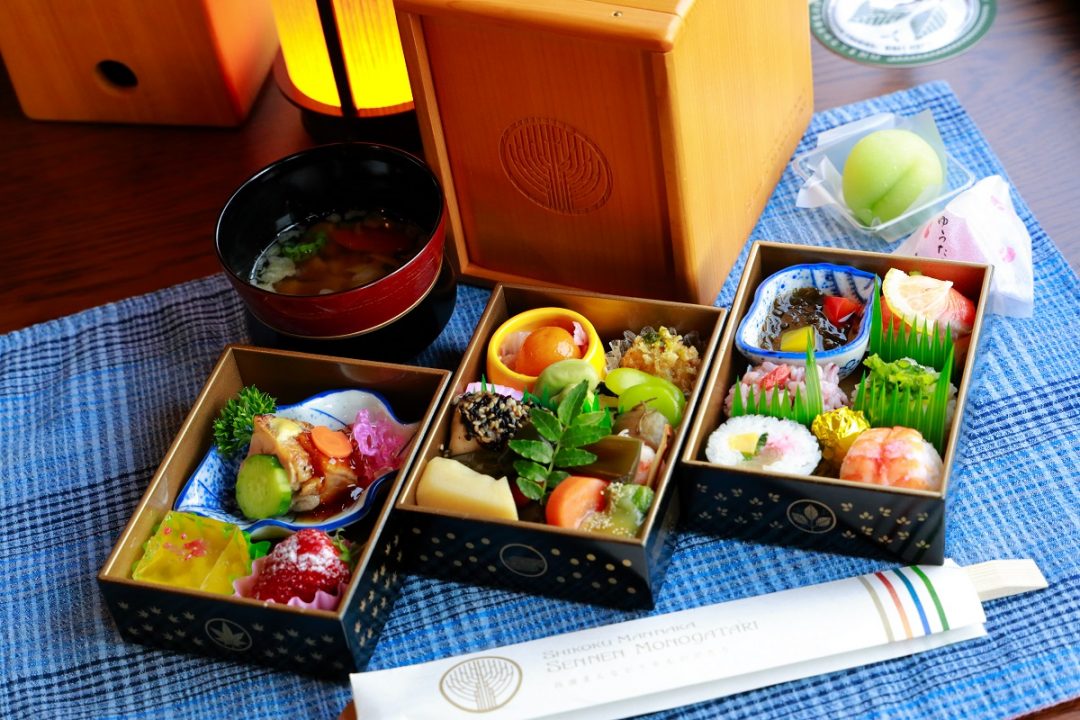 The train was inspired by Shikoku's four seasons, and the train cars themselves are named Spring, Summer, Autumn, and Winter. Within the train interior that resembles an old house in the Iya Valley, you can eat delicious food with ingredients harvested from Shikoku. The morning train Sora no Sato Kikou serves special French food, while the afternoon train Shiawase no Sato Kikou serves Japanese cuisine in a traditional yusanbako box. Leisurely enjoy the meal while admiring the scenic view from the windows.
The beautiful views and the welcome from locals are charming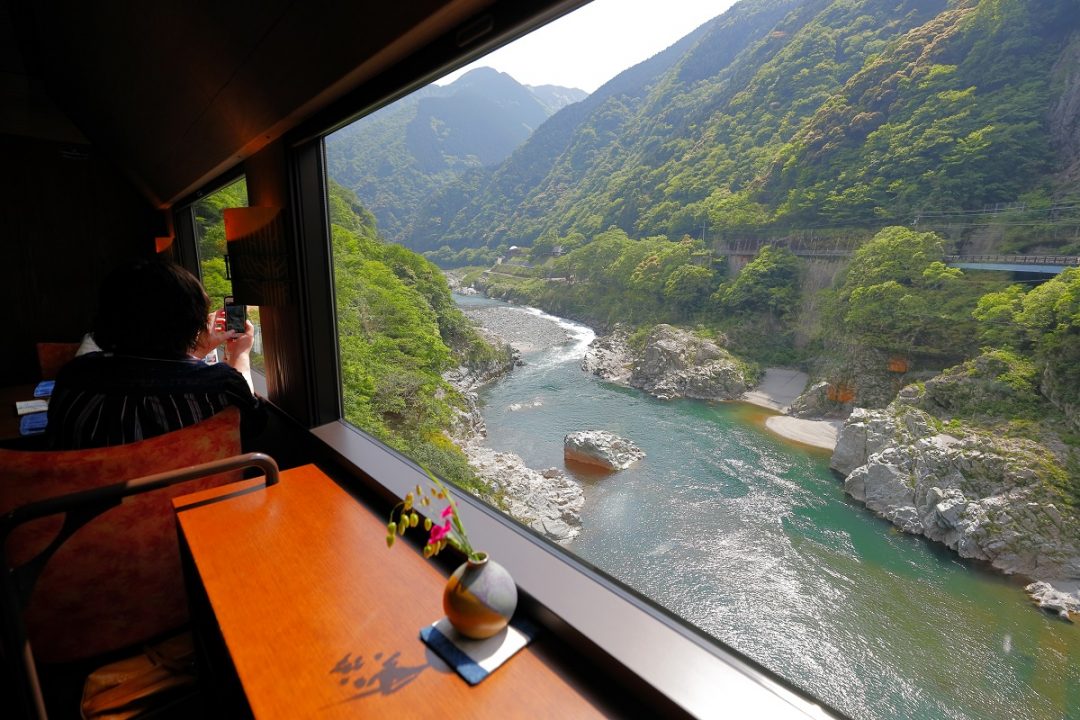 What makes riding this train truly enjoyable are the breathtaking scenery you can see from the train windows and the welcome from locals. The lovely scenery from the train enhances the sense of specialness, including the gently-sloping, magnificent Mt. Sanuki Fuji in the peaceful rural landscape and the dynamic Oboke Gorge.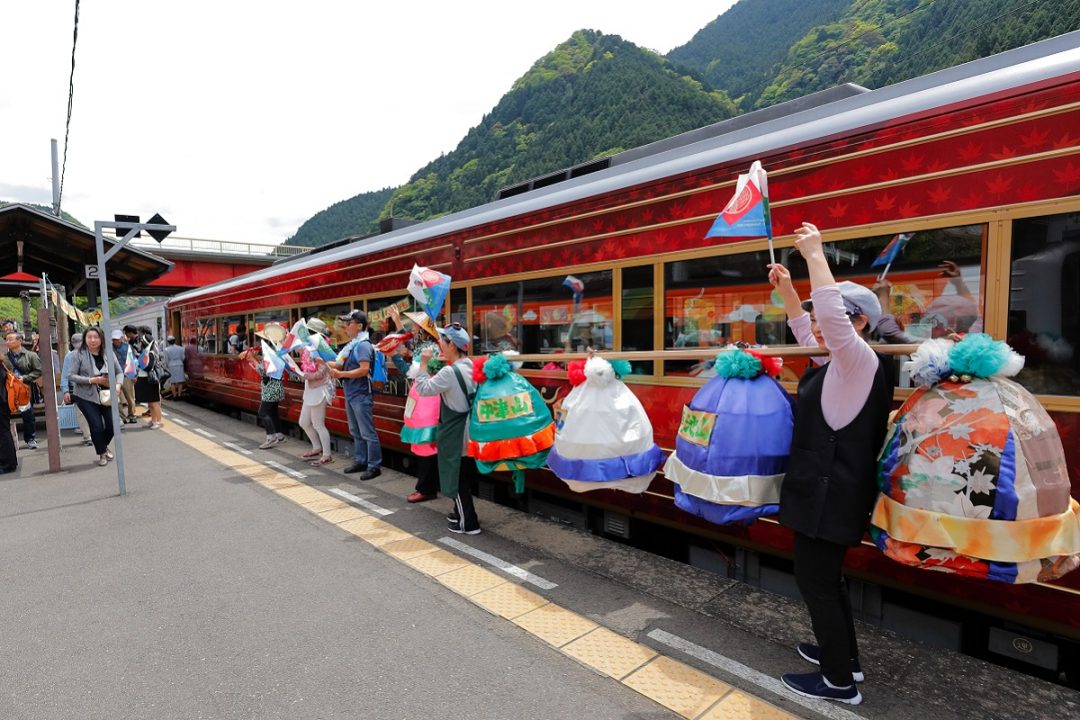 In addition, at Oboke Station, the entryway to the secluded Iya Valley, the local people gather to welcome you by saying "Yokoso," which means "Welcome" in Japanese. You can also encounter locals making warm gestures toward the train at other stations and along the line. Such exchanges will bring joy to your heart.
This is a popular train, so prior reservations are essential. Please take a look at the details here.
http://www.jr-eki.com/global/en/travel/sennen/index.html
all photo by Yuta Murakami