Your trip to Japan will be even more wonderful with train travel!
This site is operated with the cooperation of the JR Group of the railroad companies of Japan.
Please use it as a railroad and travel guide for enjoying your trip to Japan.
*Please note that, due to the novel coronavirus, a number of trains and facilities may be temporarily suspended/closed.
Itinerary by train
Sapporo
Kushiro
Aomori
Akita
Sendai
Niigata
Nagano
Tokyo
Shizuoka
Nagoya
Kanazawa
Kyoto
Shin-osaka
Hiroshima
Takamatsu
Kochi
Hakata
Nagasaki
Kumamoto
Kagoshima
Let's get on a train!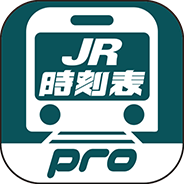 Digital JR Jikokuhyo Pro
Digital JR Jikokuhyo Pro is the tablet app version of JR Jikokuhyo (JR TIME TABLES), a monthly publication with comprehensive Japanese railway information.
The app is multilingual with information in five languages (Japanese, English, traditional Chinese, simplified Chinese and Korean).